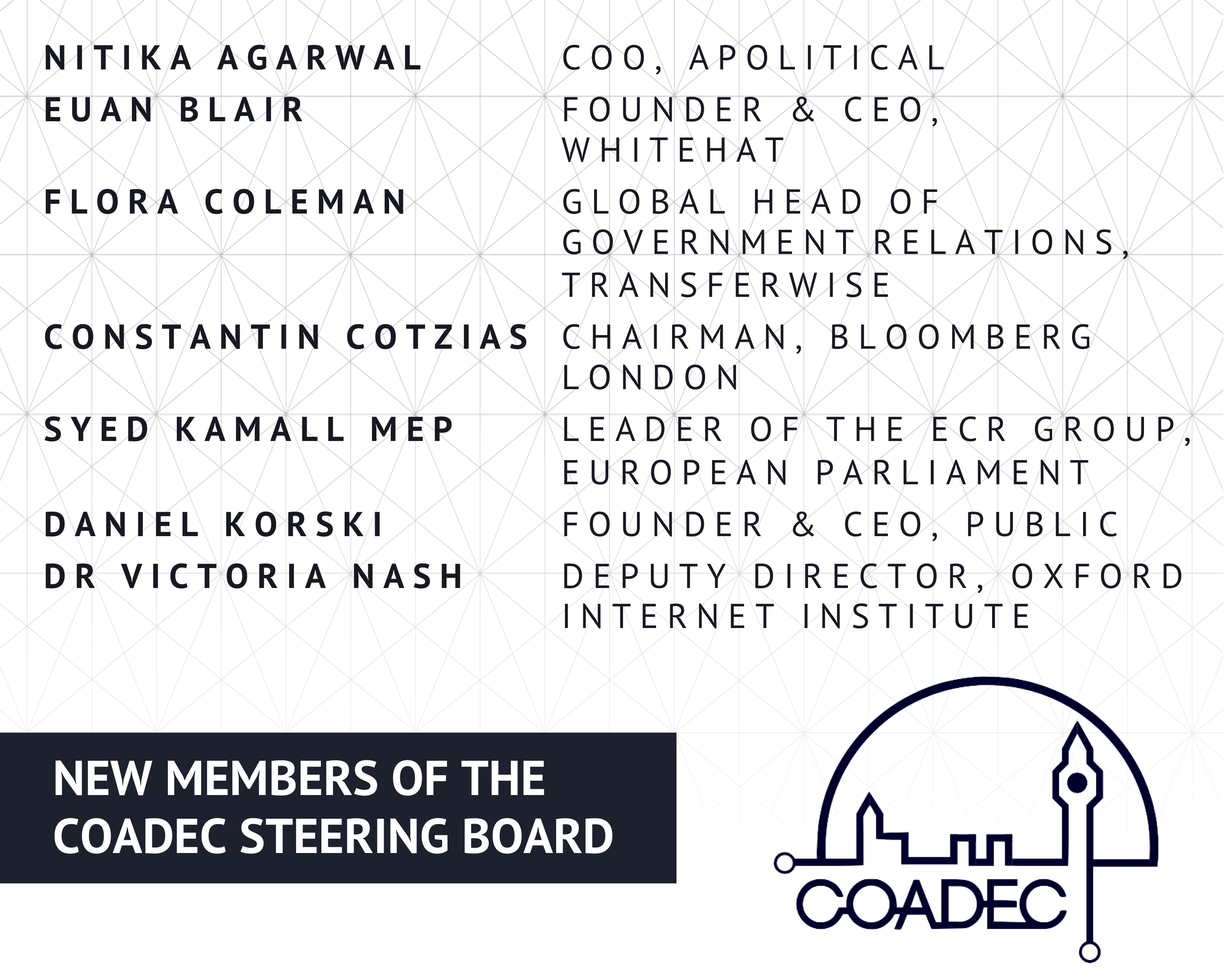 The Coalition for a Digital Economy (Coadec) has announced seven new members of its steering board as it releases its 12 Principles for the Digital Charter.
Building on the existing board structure headed by Chairman Jeff Lynn (Executive Chairman and Co-Founder of Seedrs), Coadec has added seven new board members (4 men and 3 women) who bring a range of experience from Government, the private sector and academia. The full list includes:
Nitika Agarwal – COO, Apolitical
Euan Blair – Founder & CEO, WhiteHat
Flora Coleman – Global Public Policy Director, Transferwise
Constantin Cotzias – Chairman, Bloomberg London
Syed Kamall MEP – Leader of the ECR Group in the European Parliament
Daniel Korski – Founder & CEO, Public
Dr Victoria Nash – Deputy Director, Oxford Internet Institute
The board will advise and support Executive Director Dom Hallas across the range of issues Coadec engages on, from immigration and skills to the future of platform regulation.
The appointments come as Coadec launches it's '12 Principles for the Digital Charter' which outline the priorities for tech startups and scaleups as part of the Government's future conversations on tech policy. Coadec is pressing the Government to consider the impact of startups as it thinks about future regulation on platforms, internet safety, and the future of data flows.
Dom Hallas, Executive Director of Coadec, said: "With Brexit, rising competition in Europe and a potential 'techlash' coming – it's critical that at Coadec we are able to engage with the challenges that startups and scaleups will face in this brave new world. As the new Secretary of State for DCMS Jeremy Wright takes office, we hope our 12 Principles for the Digital Charter will serve as a roadmap for the future of digital policy in the UK."
Commenting on the board appointments, Dom Hallas added: "At Coadec, we want Britain to be the best place in the world to start and grow a tech business – all the fantastic members of the revamped board share this goal and I'm looking forward to working with them to make it happen."
Jeff Lynn, Chairman of Coadec, said: "We're delighted to have pulled together such a fantastic group of innovators, policy thinkers and entrepreneurs to help advise on Coadec's work in the coming years. Each of these remarkable individuals brings a perspective and an experience set that will add huge value to our work and provide great support to Dom, to me and to the entire Coadec community. And I think the fact that such an impressive lot of people has joined us reflects on the great work Coadec has done to date and the extent of our ambitions for the future."